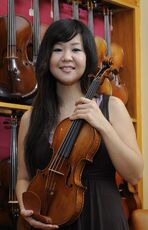 Judy Kang is a violinist from Canada.
Biography
Edit
Judy began her career at the age of 4 in her native Edmonton, Canada, and has since toured across the globe with a multitude of orchestras and ensembles. At age 11, she began to study on a full scholarship at the Curtis Institute of Music and at just 17, she graduated with a Bachelor in Music. At age 19, she was granted the Lily Foldes Scholarship from the Juilliard School, where she graduated with a Masters Degree. She has been awarded the 1689 "Baumgartner" Stradivarius, on loan from the Canada Council for the Arts.
Work with Lady Gaga
Edit
Refrences
Edit
Ad blocker interference detected!
Wikia is a free-to-use site that makes money from advertising. We have a modified experience for viewers using ad blockers

Wikia is not accessible if you've made further modifications. Remove the custom ad blocker rule(s) and the page will load as expected.