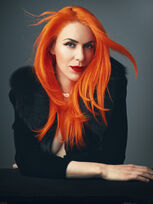 Kerin Rose Gold is an eyewear and accessories designer working in New York City. She creates work that is hand carved from beeswax provided by the bees her sister keeps and hand cast using the lost wax process, or cire perdu in eco friendly recycled silver and gold. Talismans for a modern age, many who own her pieces say they are like tattoos imbued with personal and symbolic meaning, to carry the soul forward. She have a line of sunglasses called A-Morir founded in 2008.
Creations
Edit
Two dozen lenses hand drilled & attached to a vintage measuring frame with wire.
Eyebrows and eyelids
Edit
Ad blocker interference detected!
Wikia is a free-to-use site that makes money from advertising. We have a modified experience for viewers using ad blockers

Wikia is not accessible if you've made further modifications. Remove the custom ad blocker rule(s) and the page will load as expected.