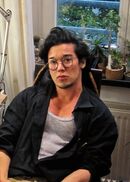 Kermit Tesoro is a Filipino designer who is known for his fashion forward heel-less shoes.
Fall/Winter 2010 Collectin
Edit
He collaborated with Leeroy New for a "Muscle Dress" which was recreated in 2012 for the "Marry the Night" video.
The "Muscle Dress" was modified by In-House Atelier creating a top, shorts and shades made from the original piece.
Holiday 2012 "Iridescent Imagination" Collection
Edit
Ad blocker interference detected!
Wikia is a free-to-use site that makes money from advertising. We have a modified experience for viewers using ad blockers

Wikia is not accessible if you've made further modifications. Remove the custom ad blocker rule(s) and the page will load as expected.