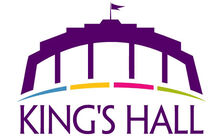 The King's Hall Complex is a multi-purpose venue located in Balmoral, Lisburn Road, Belfast in Northern Ireland. The King's Hall Complex consists of 6 event venues, 4 of which are still in operation. The King's Hall Complex is owned by the Royal Ulster Agricultural Society (previously the North East Agricultural Association of Ireland), who moved to the Complex in 1896 from their previous showgrounds in Belfast Corporation Markets area.
Part of the Doll Domination Tour, Lady Gaga was the opening act.
Set list:
Ad blocker interference detected!
Wikia is a free-to-use site that makes money from advertising. We have a modified experience for viewers using ad blockers

Wikia is not accessible if you've made further modifications. Remove the custom ad blocker rule(s) and the page will load as expected.