Lady Gaga/The Fame
Talk

0
3,380pages on
this wiki
The Fame era began with Gaga being signed with Interscope Records in 2007.
Around her performance at Lollapalooza, Gaga was signed to Streamline Records by Vincent Herbert. In November of 2007, Vincent Hertbert signed a deal with Interscope Records in which they agreed to promote five of his acts, including Lady Gaga.
Background of The Fame era
Old version
Edit
Around her performance at Lollapalooza, Gaga was signed to Streamline Records by Vincent Herbert. In November of 2007, Vincent Hertbert signed a deal with Interscope Records in which they agreed to promote five of his acts, including Lady Gaga.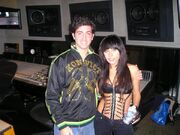 In January, Lady Gaga had a goodbye party with her lowersides friends of New York the night before and someone from the label picked her up from the bar to the airplane. She then met
RedOne
in the studio and still hungover, she wrote
Just Dance
in ten minutes as "a happy record". In a week, they wrote together
Poker Face
and
LoveGame
. After that, she signed a recording deal with Interscope and began officially the production of her debut album.
Also in January, she was sent to write songs with Akon for Tami Chynn, an artist signed to Konvict Muzik in Atlanta. For the first time, Akon recognized her vocal abilities during her singing of a reference vocal to one of his tracks in the studio.
"When we were working, Akon would say, 'Get in the booth and cut these vocals,' and he'd always tell me I could really sing. So he decided he wanted to be a part of my music," Gaga said about working with Akon, who ultimately convinced Interscope-Geffen-A&M Chairman and CEO Jimmy Iovine to sign her to a joint deal with Konlive. "He spoke to Jimmy, and we decided to become a big family." —Lady Gaga
As a result, she was commissioned by Interscope to write for labelmates New Kids on the Block with RedOne, Nicole Scherzinger's solo album and the Pussycat Dolls with Rodney "Darkchild" Jerkins and some others with Akon. Two of hers songs was picked by Britney Spears and recorded but only one was released, Quicksand as a bonus track in Europe. Gaga also joined the roster of Cherrytree Records, an Interscope imprint established by producer and songwriter Martin Kierszenbaum, after co-writing four songs with Kierszenbaum. He also introduced Space Cowboy to Gaga and the two became friends. She began to work with a collective called the Haus of Gaga, who collaborate with her on her clothing, stage sets, and sounds. On 8 April, Just Dance was released as the lead single for her debut album, The Fame. The music video of the song was shot on the 28th. For about a year, she hustled the radio and television to get her single played. In May, Martin Kierszenbaum introduced Space Cowboy to Gaga and the two become friends instantly.
"Nobody knew who she was, she was just starting up, and we spoke on the phone, we got on really, really well — it was amazing! We figured out that we shared pretty much the same experiences; we'd been doing similar things on opposite sides of the Atlantic. Then I got invited to the studio to write some songs with Lady Gaga; we did "Starstruck", we did a song called "Christmas Tree" She's super-creative, she's amazing — the best writer I'd ever seen, and best performer." —Space Cowboy
In May, Gaga began a
promo and club tour
worldwide that lasted five months. She worked with a couple of
female dancers
and
DJ VH1
on her live set. In June,
Space Cowboy
took the position of DJ. Also in June, the
Transmission Gagavision
started as weekly webisode featuring Gaga and her staff and traced their adventure around the world. After a while, the webisode shown was from event many months earlier. On the 6th, Lady Gaga did her first performance on TV for Logo's
NewNowNext Awards
with
Just Dance
.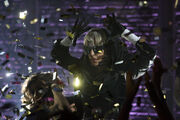 Lady Gaga performed Just Dance at the 57th Miss Universe Pageant in Vietnam. Michael Schwandt, the choreographer of the competition, is a big fans of her and suggested Gaga to the organization in order to replace a big band. A month later on the 19th, her debut album, The Fame was first released in Canada. A short film was also released to promote her music, The Fame: Part One. ABC channel asked Gaga to create a music video for Beautiful, Dirty, Rich in order to promote the new season of Dirty Sexy Money. It was released as a promotional single from the album on September 16, 2008. The two months after, she went on her first ever concert tour with fellow Interscope pop group, the reformed New Kids on the Block. Gaga started her stint with New Kids on the Block in Los Angeles on October 8, and continued through the end of November. She appeared as a featured guest on the song "Big Girl Now" from their new album, The Block. The second single, Poker Face, was released on September 23, 2008, and has reached number one in nearly twenty countries, including almost all major music markets in the world. A music video was shot on October 3 at the luxury villa on bwin PokerIsland in Malibu. In late October, Gaga released The Fame in the United States, where it debuted at number seventeen on the Billboard 200, with first week sales of 24,000 units, and has thus far peaked at number four. On December 5, 2008, Gaga was added to the BBC Sound of 2009 longlist, which features the best rising music stars.
In the United States, "Just Dance" was a "sleeper hit", spending almost five months on the Billboard Hot 100 before finally reaching the summit of the chart in January of 2009.
First performance on UK television
Shot Eh, Eh / LoveGame music video
Continued the WDT with the PCD
Started her first tour, The Fame Ball.
Music video Paparazzi
MTV Awards& Much Music awards
Gaga was confirmed as the support act for Pussycat Dolls on their Europe and Oceania arena dates from January until May 2009. The Doll Domination Tour started in Aberdeen, Scotland on January 18, and ends in Perth, Australia on May 30. Gaga's "Just Dance" received a nomination for the Best Dance Recording, but lost to Daft Punk's "Harder, Better, Faster, Stronger". On February 18, 2009, Gaga, along with Brandon Flowers of rock band The Killers, joined on stage with electronic dance duo Pet Shop Boys at the 2009 BRIT Awards. Pet Shop Boys performed a medley of their hits when Gaga and Flowers joined for the final number, the 1985 hit single "West End Girls". Gaga's first North American tour, The Fame Ball Tour started on March 12, 2009 and was critically appreciated. Beforehand, Gaga promised her fans that they can expect plenty of high drama from her upcoming performances. She said, "I consider what I do to be more of an Andy Warhol concept: pop performance art, multimedia, fashion, technology, video, film. And it's all coming together, and it's going to be traveling museum show."
Reference
Edit