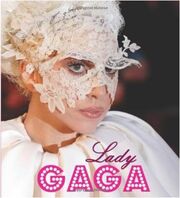 Lady Gaga – 80 paged book by Sarah Parvis (Andrews McMeel Publishing, September 14, 2010).
"This mini bio features Lady Gaga, a classically trained composer and singer, who studied at NYU's prestigious Tisch School of Arts. Lady Gaga's celebrity garners her as much attention as her music, as she is notorious for her red-carpet outfits. The persona she has cultivated in the media may be over the top, but her record and album sales are over the top as well. Gaga's albums have been certified multi-platinum in sixteen countries, and she continually tops the Billboard, SoundScan, and iTunes charts."
Ad blocker interference detected!
Wikia is a free-to-use site that makes money from advertising. We have a modified experience for viewers using ad blockers

Wikia is not accessible if you've made further modifications. Remove the custom ad blocker rule(s) and the page will load as expected.