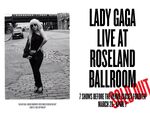 Lady Gaga Live at Roseland Ballroom is the first residency show by Lady Gaga. Performed at the Roseland Ballroom in Manhattan, New York, the residency show began on March 28, 2014 and concluded on April 7, 2014, after completing seven shows.
Background
The Roseland Ballroom opened in 1919 after moving from philadephia. It was announced on October 19, 2013 that the venue would be closing in April 2014, after over 50 years of operation at its curent location. On November 19, 2013, it was revealed that Lady Gaga would perform the final shows at the venue with an intimate, four-night residency on March 28, March 30, March 31, and April 2, 2014. Due to the high demand, shows were added on April 4, 6 and 7.
According to Gaga, playing at the Roseland Ballroom was always a dream of hers. She explained to John Seabrook of The New Yorker that: "It's basically the only room in the city I haven't played." As a young girl, she could not afford tickets, but she did manage to win free tickets to a Franz Ferdinand show during her senior year of high school. Gaga recalled that she fell down during the show and got her nose broken, making her parents forbid her from visiting Roseland. After her career took off with the release of her debut album, The Fame, she bypassed playing at the venue until its closure.
Gaga revealed the official poster for the residency show on March 18, 2014. The poster features an image of Gaga that was taken in 2008 at the Lower East Side of New York City by Geordie Wood. According to Gaga: "We found him and used that same photo for my Roseland poster." The poster also includes a quote from Gaga taken when the photograph was taken, that reads: "I'm Lady Gaga. A singer/songwriter. You're going to know me one day."
Show
For more information, see: Lady Gaga Live at Roseland Ballroom/Show
Opening act
Set list
Dates
Tickets went on sale through Ticketmaster on November 25; tickets were priced at $50 for the floor and $200 for the mezzanine. Members of Gaga's fan club were able to register for first access to tickets starting on November 19. Users were selected at random to receive invitations and codes to purchase tickets on November 21. Citi card members also had access to the pre-sale starting November 22.
Lady Gaga wears a beaded yellow ensemble by Atelier Versace and boots by Ellie.
Lady Gaga wears a headpiece by Arturo Rios with a visor by Isabell Yalda Hellysaz customized by Kerin Rose Gold, a custom leather jacket by DKNY, bra and briefs by Mia Gyzander Costumes and custom boots by Giuseppe Zanotti.
Backstage
Backstage
Backstage
Backstage
Backstage
For the final show, a live stream by Verizon will be available on Getmoregaga.com.
Backstage
Merchandise was available to be purchased before, during, and after each show.
VIP Merchandise
Personnel
Hair and makeup department
Wardrope department
Dancer department
Music department
Links
Ad blocker interference detected!
Wikia is a free-to-use site that makes money from advertising. We have a modified experience for viewers using ad blockers

Wikia is not accessible if you've made further modifications. Remove the custom ad blocker rule(s) and the page will load as expected.