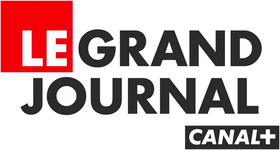 Le Grand Journal (Canal +) is a French nightly news and talk show airing every weekday.
Lady Gaga was led onto the stage and to her keyboard by one of her dancers, while wearing her iPod Glasses. She sang the first verse and chorus of "Poker Face" acoustically, while wearing the glasses, then removed them, and went into a full fledged pop performance of the song.
Set list:
Lady Gaga wears an outfit by Haus of Gaga.
Set list:
"Judas"
Lady Gaga wears a tailored bodice by Alex Noble and tights by Mugler.
Set list:
Lady Gaga wears vintage outfits by Versace, belt and earrings by Chanel and sunglasses by Frame France.
Ad blocker interference detected!
Wikia is a free-to-use site that makes money from advertising. We have a modified experience for viewers using ad blockers

Wikia is not accessible if you've made further modifications. Remove the custom ad blocker rule(s) and the page will load as expected.