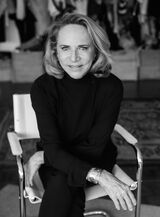 Lenny Niemeyer arrived in Rio de Janeiro in 1980. In 1993, after 10 years designing and manufacturing bikinis to brazilian brands, Niemeyer decide to create her own brand, opening her first store in Ipanema, a neighborhood in Rio. Nowadays the brand owns more than 16 stores in Brazil. Besides bikinis and swimsuits the brand produces purses, shoes, accessories and clothes.
Summer 2012 Collection
Edit
Summer 2013 Collection
Edit
Summer 2016 Collection
Edit
Ad blocker interference detected!
Wikia is a free-to-use site that makes money from advertising. We have a modified experience for viewers using ad blockers

Wikia is not accessible if you've made further modifications. Remove the custom ad blocker rule(s) and the page will load as expected.