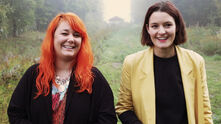 Leutton Postle is a knitwear label founded by two friends, Sam Leutton and Jenny Postle. The pair met at Central Saint Martins in 2005 on their BA.
Fall 2014 Collection
Edit
Ad blocker interference detected!
Wikia is a free-to-use site that makes money from advertising. We have a modified experience for viewers using ad blockers

Wikia is not accessible if you've made further modifications. Remove the custom ad blocker rule(s) and the page will load as expected.