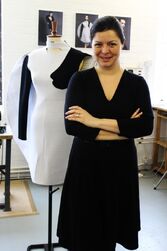 Liz Black is a Venezuelan fashion designer based in London who founded her own label in 2010. Since 2006 until 2010 she studied BA Hons Fashion Design at Central Saint Matins in London, UK. She worked with Emilio de la Morena, Elisa Palomino and Diane von Furstenberg in London and New York. Liz Black is currently stocked in the UK, Italy, China, Hong Kong, Canada, Saudi Arabia, Dubai and Qatar.
"Concetric Thoughts": Fall/Winter 2011 RTW Collection
Edit
Ad blocker interference detected!
Wikia is a free-to-use site that makes money from advertising. We have a modified experience for viewers using ad blockers

Wikia is not accessible if you've made further modifications. Remove the custom ad blocker rule(s) and the page will load as expected.