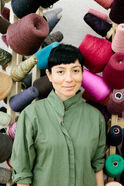 Lucia Cuba is a Peruvian designer and social scientist. Her activist design project Artículo 6 aims to raise awareness about the forced sterilizations implemented during the government of Alberto Fujimori in Peru (1996-2000). She creates garments that re-interpret, transform, and give independence. Cuba combines the world of fashion design and social sciences, seeing garments as agents of future change.
"Artículo 6" Collection
Edit
Ad blocker interference detected!
Wikia is a free-to-use site that makes money from advertising. We have a modified experience for viewers using ad blockers

Wikia is not accessible if you've made further modifications. Remove the custom ad blocker rule(s) and the page will load as expected.