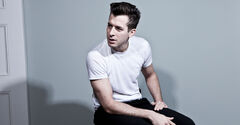 Mark Daniel Ronson (born 4 September 1975) is an English musician, DJ, singer, and record producer. Although his debut album Here Comes the Fuzz failed to make an impact on the charts, his second album Version reached number two in the UK Album chart and included three UK top 10 singles. This success won him a Brit Award for Best British Male Solo Artist in 2008. His third studio album, Record Collection, was released on 27 September 2010, peaking at number two in the UK.
Work with Lady Gaga
Edit
Mark Ronson is one of the producers who Lady Gaga worked on Joanne album. In November 2015, they spent 12 hours together in a recording studio in London.
Ad blocker interference detected!
Wikia is a free-to-use site that makes money from advertising. We have a modified experience for viewers using ad blockers

Wikia is not accessible if you've made further modifications. Remove the custom ad blocker rule(s) and the page will load as expected.