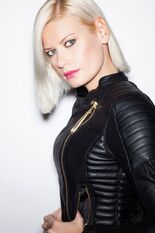 Maya Carbajal Alex-Hansen was born and raised in Madrid. She attended Centro Superior de Diseño de Moda de Madrid and graduated with honours in 2002. She won Portuguese Internantional Prize at Porto Fashion Award in 2000 with a collection based on the spanish architec Santiago Calatrava Works. In 2001 she won the second Price at Smirnoff Fashion Awards. In february 2002, she present her first collection at Barcelona Gaudí Fashion Show. Hansen was created in 2006 as a fashion brand speciallized in corsets. Maya Hansen debuted in February 2010 at the EGO Madrid Cibeles Fashion Week with the AW'10 collection 'Heavy Metal Couture' and she won L'Oreal Prize to the best young designer collection in september 2010 with the SS11 'Lace Wings' collection.
Fall/Winter 2011 RTW "Queens of Spain" Collection
Edit
Spring/Summer 2012 RTW "Knotted" Collection
Edit
Spring/Summer 2015 RTW "Birth" Collection
Edit
Custom boots in collaboration with Ursula Mascaro.
Ad blocker interference detected!
Wikia is a free-to-use site that makes money from advertising. We have a modified experience for viewers using ad blockers

Wikia is not accessible if you've made further modifications. Remove the custom ad blocker rule(s) and the page will load as expected.