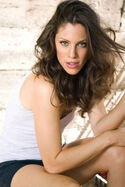 Melissa Emrico is a former Haus member from 2008. She danced with Gaga under the nickname "Dina".
Work with Lady Gaga
Edit
Music videos
Edit
Melissa Emrico worked from May 11 to September 28 of 2008 on all of Gaga's live performances (including TV and web).
Ad blocker interference detected!
Wikia is a free-to-use site that makes money from advertising. We have a modified experience for viewers using ad blockers

Wikia is not accessible if you've made further modifications. Remove the custom ad blocker rule(s) and the page will load as expected.