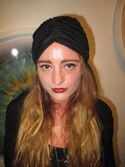 Millie Brown is a British performance artist. She has been hailed as one of the new YBAs (Young British Artists) and is an intrinsic part of the youth talent pool that makes London, England. Brown had gaining attention internationally and showcasing her works and performances worldwide, having collaborated with Nick Knight, Ruth Hogben and Lady Gaga. Millie's international background and color has led to an artistic expression, and is primarily renowned for her colorful performances where she 'vomits rainbows' in various forms of media; live, short films and on canvas.
Work with Lady Gaga
Edit
Main article: Puke Film
Millie and Gaga's first collaboration together was the creation of a Monster Ball Tour video, in which at one point Millie is vomiting green colored milk onto Gaga's dress. This collaborative piece with Gaga was later exhibited at the SHOWstudio gallery, was showcased worldwide throughout the tour, and was included on the Emmy award winning documentary, Lady Gaga's "Monster Ball Tour at Madison Square Garden".
Main article: SXSW

Millie and Gaga's second and most recent collaboration was at
SXSW 2014
 in Austin, Texas. Millie vomited neon green colored milk onto Gaga as she was playing the drums, and again as they were riding on a mechanical bull together.
Ad blocker interference detected!
Wikia is a free-to-use site that makes money from advertising. We have a modified experience for viewers using ad blockers

Wikia is not accessible if you've made further modifications. Remove the custom ad blocker rule(s) and the page will load as expected.