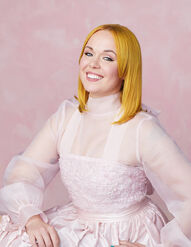 Minna Parikka (born 1980) is a Finnish shoe designer. She moved after high school to the UK to study shoe design at De Montfort University in Leicester, where she earned a shoe design Bachelor of Arts degree in 2002. That same year Parikka won the prestigious Young British Glove Designer of the Year title. Parikka returned to Finland in 2005 and founded her own label.
Ad blocker interference detected!
Wikia is a free-to-use site that makes money from advertising. We have a modified experience for viewers using ad blockers

Wikia is not accessible if you've made further modifications. Remove the custom ad blocker rule(s) and the page will load as expected.