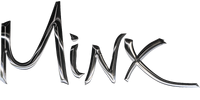 Minx® is the brand name for a patented solid nail coating that was invented in 2007. Minx Nail coatings are available in graphics, designs and metallic finishes, and can be applied to natural or artificial nails through a process using heat and pressure. The company's tagline is "Minx extends fashion to your fingertips".
Minx Nails
Edit
Naja Rickette introduced Minx to Gaga the day before the shooting of Just Dance in 2008.
Yellow with brown fishnet
Golden lightning studs
Golden Lightning (112-10001)
Silver Lightning (112-10000)
Lavender
Copper
Unknown
Worn 2 minx nails for the Yoü and I video.
Ad blocker interference detected!
Wikia is a free-to-use site that makes money from advertising. We have a modified experience for viewers using ad blockers

Wikia is not accessible if you've made further modifications. Remove the custom ad blocker rule(s) and the page will load as expected.