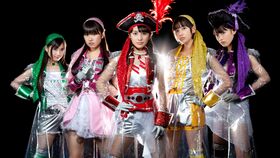 Momoiro Clover Z (ももいろクローバーZ Momoiro Kurōbā Zetto?), commonly abbreviated as Momoclo (ももクロ Momokuro?), is a Japanese idol group, composed of five girls. They are known for energetic performances, incorporating elements of ballet, gymnastics, and action movies. Momoiro Clover Z is ranked as the most popular female idol group according to 2013 and 2014 surveys.
Work with Lady Gaga
Other
Links
Ad blocker interference detected!
Wikia is a free-to-use site that makes money from advertising. We have a modified experience for viewers using ad blockers

Wikia is not accessible if you've made further modifications. Remove the custom ad blocker rule(s) and the page will load as expected.