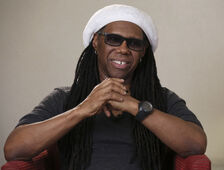 Nile Gregory Rodgers (born September 19, 1952) is an American musician, producer, and guitarist. He is the lead guitarist and co-founding member with Bernard Edwards of the band Chic, which has been active since 1976 and was one of the most successful groups of the disco era. Rodgers has found more success in collaboration than as a solo artist as producer of songs by many artists including Diana Ross, David Bowie, Duran Duran, Madonna, Britney Spears and more recently, Daft Punk, Pharrell Williams, Avicii, Sam Smith, Pitbull, Kylie Minogue, Tensnake and Nervo.
Work with Lady Gaga
Edit
Nile Rodgers announced that he works with Lady Gaga on her fifth studio album.
Ad blocker interference detected!
Wikia is a free-to-use site that makes money from advertising. We have a modified experience for viewers using ad blockers

Wikia is not accessible if you've made further modifications. Remove the custom ad blocker rule(s) and the page will load as expected.