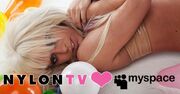 Nylon
is an American magazine that focuses on pop culture and fashion. Its coverage includes art, beauty, music, design, celebrities, technology and travel. Its name references New York and London.
Myspace member since:

Oh gosh, at least since college. So maybe five years?

Total number of friends"

It's been changing. I have 148,000 friends now.

Current mood:

Grateful.

Three words that describe my profile picture:

Hard work, passion, New York.

Latest MySpace obsessions:

I'm really obsessed with innovative fashion, so you see a lot of crazy stuff going on at my shows and my fans post it-the new age of music and pop culture and the ways that fans respond. MySpace is the best way to have a relationship with fans.

The most awesomely bad wallpaper I've ever seen:

When they have the gothic angel. You know what I'm talking about? I don't like that.

My dream top 8 would include:

Andy Warhol, Grace Jones, Sophia Loren, Edie Sedgwick, David Bowie, Mick Jagger, Leigh Bowery, Klaus Nomi.

Funniest comment ever written on my page:

Courtney Love MySpaced me and told me I was hot. I was like, "What is she doing?"

Best reason to accept a friend request:

Pedophilia.
Photography by Sasha Eisenman.
Ad blocker interference detected!
Wikia is a free-to-use site that makes money from advertising. We have a modified experience for viewers using ad blockers

Wikia is not accessible if you've made further modifications. Remove the custom ad blocker rule(s) and the page will load as expected.