The O2 Arena, visually typeset in branding as The O2, is a multi-purpose indoor arena located at the centre of The O2, a large entertainment complex on the Greenwich peninsula in South East London, United Kingdom.
Part of the Doll Domination Tour, Lady Gaga was the opening act.
Set list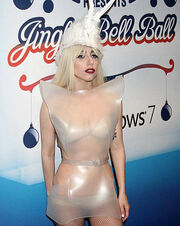 The Jingle Bell Ball of Capital FM 95.8 featured the artists.
Additional notes
This was the only time Gaga would use a modified version of the Jumping Film.
Set list
These concerts were part of the revamped Monster Ball Tour.
Addtional Notes:
Gaga said that she shot the photoshoot for the album during her time in the city.
"Vanity" and "Brown Eyes" were performed only during the February and May shows.
On February 26th, Gaga debuted a new Disco Stick titled, the Disco Torch.
On the same date, Gaga commenting upon breaking a heel, "I'd rather die than perform without my shoes".
Also on the same date, she wore her famous "Lobster hat outift", with the Lobster Headpiece by Philip Treacy, and rubber jacket and bermuda by Rachael Barrett.
"Stand By Me" was performed during the May shows.
"Yoü and I" was performed during the December shows.
On December 16th, Posh! The Prince and Sloan was ill, therefore, Ian McKenzie replaced Posh! for the "Paparazzi" dialog.
On the same date, there were technical difficulties with Gaga's headset microphone during "Paparazzi" and "Bad Romance", so she used a handheld microphone.
On December 17th, Gaga stated that Born This Way's first single will be performed on television between February and March 2011.
Set list
Part of artRAVE: The ARTPOP Ball.
Part of the Joanne World Tour.
TBA
Reference
Edit