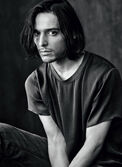 Olivier Theyskens (Dutch pronunciation: [ˌɔlɪviər ˈtʰɛiskəns]; born January 4, 1977 in Brussels, Belgium) is a fashion designer who has worked with several major houses, including Rochas, Nina Ricci and Theory. As a child, Theyskens' parents encouraged him to draw men and women in costumes and were not surprised when at the age of 7 years old, Theyskens proclaimed he wanted to "do haute couture". In October 1995, aged 18, Olivier Theyskens began attending École Nationale Supérieure des Arts Visuels de la Cambre to study fashion design, but dropped out in 1997 to start his own label.
Ad blocker interference detected!
Wikia is a free-to-use site that makes money from advertising. We have a modified experience for viewers using ad blockers

Wikia is not accessible if you've made further modifications. Remove the custom ad blocker rule(s) and the page will load as expected.