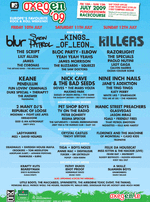 The Oxegen Festival is an annual Irish music festival held since 2004, sponsored by Heineken.
Oxegen 2009 was spanned over a three day period. Lady Gaga performed on Sunday, the last day, along with The Killers (Healinder), Razorlight, The Specials, Paolo Nutini, Calvin Harris, and Ocean Color Scene.
Set list:
Ad blocker interference detected!
Wikia is a free-to-use site that makes money from advertising. We have a modified experience for viewers using ad blockers

Wikia is not accessible if you've made further modifications. Remove the custom ad blocker rule(s) and the page will load as expected.