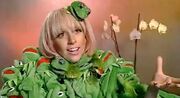 PETA, also known as People for the Ethical Treatment of Animals, is an animal rights organization that is devoted to the non consumption of animal products such as meat and dairy, refraining from the use of animal fur in clothing and are against the testing on animals in laboratories.
In a press release from the organization, they commented on Lady Gaga's support toward animal rights.
"Her anti-fur stance … has been unwavering. Gaga's out-there outfits never include real fur. Last year, when she wore a dress made of fluffy Kermit the Frog dolls, [she] explained, 'I thought it was commentary on not wearing fur, 'cause I hate fur and don't wear fur.'"
The billboard will be raised on the corner of Sunset Boulevard and Le Brea Avenue on Tuesday, February 01st, 2011. Lady Gaga joins a long list of stars who have helped with the campaign, alongside Michelle Obama and Oprah Winfrey.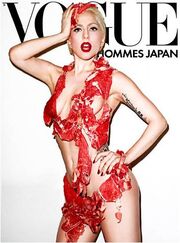 The photo taken by Terry Richardson, that was featured on Vogue Hommes Japan's September issue, prompted a strong reaction by PETA, which said in a statement, "No matter how beautifully it is presented, flesh from a tortured animal is flesh from a tortured animal. Meat represents bloody violence and suffering, so if that's the look they were going for -- they achieved it". PETA president, Ingrid Newkirk, added in an interview with the Daily News, "Oh, Lady Gaga's job is to do outlandish things, and this certainly qualifies as outlandish because meat is something you want to avoid putting on or in your body."
During Gaga's concert at the Wachovia Center in Philadelphia, she expressed her thoughts over the controversy the outfits caused.
"Next time I'll wear a tofu dress and the soybean police will come after me."
A spokesperson for PETA released the following statement regarding a meeting with Gaga to try and understand the situation.
"Ingrid did send Lady Gaga a private letter inviting her to a vegan dinner. We know her to be a kind person from her previous anti-fur statements, and we hope that she takes Ms. Newkirk up on the offer."
Ad blocker interference detected!
Wikia is a free-to-use site that makes money from advertising. We have a modified experience for viewers using ad blockers

Wikia is not accessible if you've made further modifications. Remove the custom ad blocker rule(s) and the page will load as expected.