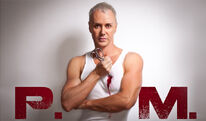 Perry Meek (born in 1969) is a former Australian champion ice skater from Adelaide, Australia. Since 2009, he's been serving as a costume designer at the Haus of Gaga. He has created outfits for Cher, Janet Jackson, Mariah Carey, Toni Braxton, The Spice Girls (2008), and Tina Turner.
Ad blocker interference detected!
Wikia is a free-to-use site that makes money from advertising. We have a modified experience for viewers using ad blockers

Wikia is not accessible if you've made further modifications. Remove the custom ad blocker rule(s) and the page will load as expected.