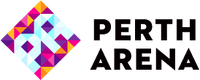 Perth Arena is a sport and concert arena located in Perth, Western Australia, located on the former site of the Perth Entertainment Centre. The arena is controversial because of delays in construction and its design, which is said to resemble a crushed beer can.  
It officially opened on November 10, 2012, with a performance by Sir Elton John. Lady Gaga will appear at the arena for the first time on August 20, 2014, as part of the artRAVE: The ARTPOP Ball Tour.
Part of artRAVE: The ARTPOP Ball.
Ad blocker interference detected!
Wikia is a free-to-use site that makes money from advertising. We have a modified experience for viewers using ad blockers

Wikia is not accessible if you've made further modifications. Remove the custom ad blocker rule(s) and the page will load as expected.