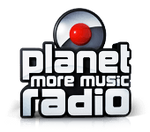 Planet Radio is a radio channel, hosted in Germany.
Lady Gaga performed an acoustic rendition of her song, "Poker Face", while wearing a sparkled black jacket, with pointed shoulder pads, and a pair of Versace 676 sunglasses.
Set list:
"Poker Face" (Acoustic version)
Ad blocker interference detected!
Wikia is a free-to-use site that makes money from advertising. We have a modified experience for viewers using ad blockers

Wikia is not accessible if you've made further modifications. Remove the custom ad blocker rule(s) and the page will load as expected.