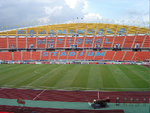 Rajamangala National Stadium (Thai: ราชมังคลากีฬาสถาน; RTGS: Ratchamangkhalakilasathan), also known as Hua Mark Indoor Stadium, is the national stadium of Thailand and the home stadium for the Thailand national football team. Located in Khwaeng Hua Mak, Khet Bang kapi, Bangkok, it officially opened in 1998.
Part of The Born This Way Ball Tour.
Additional notes:
There was no Monster Pit at this show.
Mother G.O.A.T. did not move on the middle.
Set list

Act I
Space (intro)
Operation: Kill the Bitch (interlude)
Birth (interlude)
Interlude
Mother G.O.A.T. Manifesto I (interlude)
Interlude
"Judas"
Act II
Act III
Mother G.O.A.T. Manifesto II (interlude)
"Bad Kids"
"Hair" (acoustic)
"Yoü and I" (acoustic)
Act IV
Interlude
"Americano" / "Poker Face" (medley)
Act V
"Scheiße"
"The Edge of Glory" (acoustic + album)