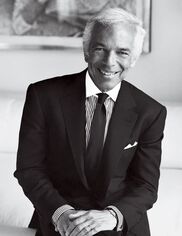 Ralph Lauren (born Ralph Lifshitz; October 14, 1939) is an American fashion designer, philanthropist, and business executive. He has also become well known for his collection of rare automobiles, some of which have been displayed in museum exhibits.
Lauren attended day school followed by MTA (now known as the Marsha Stern Talmudical Academy), before eventually graduating from DeWitt Clinton High School in 1957. In MTA Lauren was known by his classmates for selling ties to his fellow students. In a later interview about his early ambitions he referred to his Clinton yearbook, in which it stated under his picture that he wanted to be a millionaire.
Ad blocker interference detected!
Wikia is a free-to-use site that makes money from advertising. We have a modified experience for viewers using ad blockers

Wikia is not accessible if you've made further modifications. Remove the custom ad blocker rule(s) and the page will load as expected.