Ad blocker interference detected!
Wikia is a free-to-use site that makes money from advertising. We have a modified experience for viewers using ad blockers

Wikia is not accessible if you've made further modifications. Remove the custom ad blocker rule(s) and the page will load as expected.
The Record Plant was a series of three famous recording studios which were founded by Gary Kellgren and Chris Stone, beginning in New York City in 1968. The next year, Kellgren and Stone opened a second studio in Los Angeles. In 1972, the company expanded again with a third location in Sausalito, California. Kellgren died in 1977, and in the 1980s, the New York and Sausalito studios ended up under different ownership and management. The New York studio closed in 1987 and the Sausalito studio closed in 2008. The Los Angeles studio continues in business as "The Record Plant".
Recording with Lady Gaga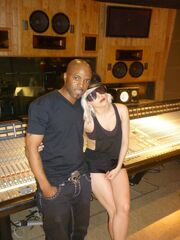 Songs from The Fame Monster (2009):
Songs written for other artists:
ARTPOP Wall
On October 9, 2013, Gaga asked some dedicated fans she nicknamed the "LA Rivington Rebels" to paint a mural in the parking lot of the Record Plant with ARTPOP the track list on tt. Later the track listing was unveiled in a series of fan posts retweet by Gaga on Twitter
Links