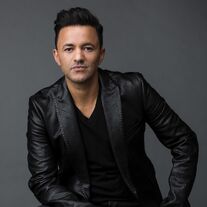 RedOne (born Nadir Khayat) is a Moroccan-Swedish producer/songwriter. RedOne moved from Morocco in North Africa to Sweden in his late teens to work his way up in the Swedish pop music scene.
RedOne and Lady Gaga met through Laurent Besencon who managed both of them. Even after Gaga was dropped from Island Def Jam, RedOne continued to work with Gaga for free because he believed in her. The first song they did together was "Boys Boys Boys".
Productions with Lady Gaga
He worked with Lady Gaga on the following song(s):

Songs from The Fame (2008):
Songs from The Fame Monster (2009):
Songs from Born This Way (2011):
Songs from ARTPOP  (2013):
Songs from Joanne  (2016):
Songs currently unreleased:
Songs written for other artists:
Other
Ad blocker interference detected!
Wikia is a free-to-use site that makes money from advertising. We have a modified experience for viewers using ad blockers

Wikia is not accessible if you've made further modifications. Remove the custom ad blocker rule(s) and the page will load as expected.