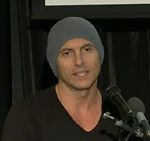 Rennio Maifredi is a photographer born and raised in Brescia, Italy. He is currently based in New York. He did a photoshoot with Lady Gaga in 2009.
This photo shoot was first featured in the editorial of Maxim (July, 2009).
Styling — Kemal & Karla (The Wall Group)
Hair — Peter Savic (Solo artists/Redken)
Makeup — Sharon Gault (Photogenics beauty for M.A.C. make-up)
Lady Gaga wears a shin guard bangle by AND_i (Couture 2009 Collection).
Lady Gaga wears.
Lady Gaga wears.
Lady Gaga wears a leather mask by Coco de Mer.
Behind the scenes
Edit
02:03

Behind the Scenes of Rennio Maifredi 2009 Photoshoot

MAXIM x LADYG GAGA
Director
N/A
Editing
N/A
Music
"Poker Face"
Media use
Edit
References
Edit
Ad blocker interference detected!
Wikia is a free-to-use site that makes money from advertising. We have a modified experience for viewers using ad blockers

Wikia is not accessible if you've made further modifications. Remove the custom ad blocker rule(s) and the page will load as expected.