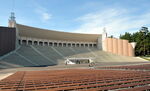 Mežaparks (in German known also as Kaiserwald) is a neighbourhood in North Central Riga, Latvia. The name is literally translated as 'forest park'. The park was built in the early 20th century and was originally called Kaiserwald. It was one of the world's first garden cities. It contains a grand stage for events.
Part of The Born This Way Ball Tour.
Additional notes:
Gaga pulled a young girl up on stage to dance with her during "Marry the Night".
Set list
Act I
Space (intro)
Operation: Kill the Bitch (interlude)
Birth (interlude)
Emerging (interlude)
Mother G.O.A.T. Manifesto I (interlude)
G.O.A.T Briefing (interlude)
"Judas"
Act II
Act III
Mother G.O.A.T. Manifesto II (interlude)
Speech
"Bad Kids"
"Hair" (acoustic)
"Yoü and I" (acoustic)
Act IV
Interlude
"Americano" / "Poker Face"
Act V
"Scheiße"
"The Edge of Glory" (acoustic + album)
Ad blocker interference detected!
Wikia is a free-to-use site that makes money from advertising. We have a modified experience for viewers using ad blockers

Wikia is not accessible if you've made further modifications. Remove the custom ad blocker rule(s) and the page will load as expected.