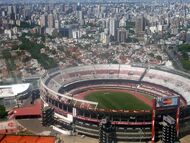 The Estadio Monumental Antonio Vespucio Liberti (Monumental Stadium Antonio Vespucio Liberti) or simply "El Monumental" is a stadium located in Buenos Aires (Argentina). It's home of the Argentinian soccer team River Plate. The stadium is named after former club president Antonio Vespucio Liberti and it is considered to be one of the most important national stadiums of Argentina. Its capacity is 65,000 spectators (in a soccer game).
Set list
Ad blocker interference detected!
Wikia is a free-to-use site that makes money from advertising. We have a modified experience for viewers using ad blockers

Wikia is not accessible if you've made further modifications. Remove the custom ad blocker rule(s) and the page will load as expected.