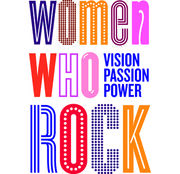 The Rock and Roll Hall of Fame and Museum is a museum located on the shore of Lake Erie in downtown Cleveland, Ohio, United States. It is dedicated to archiving the history of some of the best-known and most influential artists, producers, engineers and others who have, in some major way, influenced the music industry through the genre of rock music. The museum is part of the city's redeveloped North Coast Harbor.
Women Who Rock: Vision, Passion, Power
Edit
On February 3, 2011, it was revealed that Lady Gaga will be among several female artists honored at the world's first exhibit devoted to the most influential female artists of all time. The exhibit, entitled,Women Who Rock: Vision, Passion, Power will celebrate women who "moved rock and roll music and the American culture forward," according to the official press release.
The exhibit, set to be launched at the museum on May 13, 2011, will spotlight more than 60 female artists and fill two floors of the museum. Women Who Rock: Vision, Passion, Power highlights the flashpoints, the firsts, the best, the celebrated -- and sometimes lesser-known women -- who moved rock and roll music and American culture forward.
Everett piano with childhood photographs and sheet musicEdit
Lady Gaga's paternal grandparents bought this piano in 1966 for $780. When Gaga was not even a year old, her grandparents gave the piano to her parents. According to Gaga's mother, "When Stefani started to crawl, she would use the leg of the piano to pull herself up and stand, and in doing so, her fingers would eventually land on the keys. She would stay there and just keep pressing the keys to hear the sound. We would then start to hold her up or sit on the bench and let her tinker, you know, things like 'Chopsticks' and 'Mary Had a Little Lamb.'" Gaga began taking piano lessons when she was four. She wrote her first song when she was five. It was called "Dollar Bills (song)" and was inspired by Pink Floyd's "Money." She continued to play this piano until her parents bought her a baby-grand piano for her 13th birthday.
Lady Gaga Outfit by Armani, 2010Edit
Lady Gaga wore this outfit at the 2010 Grammy Awards. Her song "Poker Face (song)" won the Grammy for Best Dance Recording, and her album The Fame won for Best Electronic/Dance Album.
Lady Gaga wore this outfit at the 2010 MTV Video Music Awards.
Lady Gaga wore this outfit in the "Bad Romance" music video.
Ad blocker interference detected!
Wikia is a free-to-use site that makes money from advertising. We have a modified experience for viewers using ad blockers

Wikia is not accessible if you've made further modifications. Remove the custom ad blocker rule(s) and the page will load as expected.