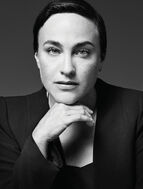 Ryan Roche is a designer that creates a clean minimalist modern romance for women. Ryan is known for her harmonious relationship to color. Subtle, feminine shades and luxurious textures are inherent to each collection and tell the poetic story of the distinct sensibility in which it is rooted. She's committed to supporting responsible manufacturing via sustainable, low-impact production. She has worked with a women's cooperative in Nepal for the last decade and also supports American manufacturing. Ryan Roche, 36, lives and works in a 17th century stone house in upstate New York with her husband, three children, their Poodle and twin Rhodesian Ridgebacks.
Fall 2014 Collection
Edit
Spring/Summer 2015 Collection
Edit
Ad blocker interference detected!
Wikia is a free-to-use site that makes money from advertising. We have a modified experience for viewers using ad blockers

Wikia is not accessible if you've made further modifications. Remove the custom ad blocker rule(s) and the page will load as expected.