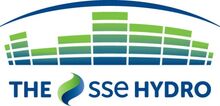 The SSE Hydro is an arena located in Glasgow, Scotland, on the site of the Scottish Exhibition and Conference Centre (SECC). The arena has a seating capacity of 12,000 or 13,000 in a standing performance. The arena officially opened on September 30, 2013, with a concert by Rod Stewart. The managers of the SSE Hydro intend to host international musical stars, global entertainment and sports events, and aim to attract one million visitors each year which would make it the fifth-busiest entertainment venue after Madison Square Garden, The O2 arena and others. SSE Hydro was chosen to host the 20th annual MTV Europe Music Awards in 2014.
Part of artRAVE: The ARTPOP Ball.
Additional notes:
Ad blocker interference detected!
Wikia is a free-to-use site that makes money from advertising. We have a modified experience for viewers using ad blockers

Wikia is not accessible if you've made further modifications. Remove the custom ad blocker rule(s) and the page will load as expected.