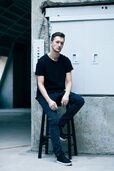 Saint-Tokyo is a fashion brand based in St. Petersburg, founded in 2012 by Yury Pitenin. Returning to his native St. Petersburg after a long stay in Tokyo, he received Russian education during which finally formed the ideology of his work and created its own brand, the DNA of which is based on the clash of cultures in Europe and Asia.
Spring 2016 Collection
Edit
Ad blocker interference detected!
Wikia is a free-to-use site that makes money from advertising. We have a modified experience for viewers using ad blockers

Wikia is not accessible if you've made further modifications. Remove the custom ad blocker rule(s) and the page will load as expected.