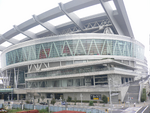 Saitama Super Arena (さいたまスーパーアリーナ Saitama Sūpā Arīna?) is a multi-purpose indoor arena located in Chūō-ku, Saitama City, Saitama, Japan. Its spectator capacity is 37,000 at maximum settings. This main arena capacity is between 19,000-22,500 when events such as basketball, volleyball, tennis, ice hockey, gymnastics, boxing, mixed martial arts and professional wrestling take place there. It is also the only Japanese arena equipped especially for American football. The arena features a gigantic moveable section of seating which can reduce capacity for smaller events and create a more intimate setting.
Part of The Born This Way Ball Tour.
Additional notes
The Monster Pit used during these 3 shows (a pit with 7 sides) was never used before or after the 3 Japanese shows.
Additional notes (May 13)
Set list

Act I
Space (intro)
Operation: Kill the Bitch (interlude)
Birth (interlude)
Interlude
Mother G.O.A.T. Manifesto I (interlude)
Interlude
"Judas"
Act II
Act III
Mother G.O.A.T. Manifesto II (interlude)
"Bad Kids"
"Hair" (acoustic)
"Yoü and I" (acoustic)
Act IV
Interlude
"Americano" / "Poker Face" (medley)
Act V