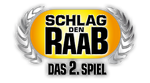 Schlag den Raab is a game show airing on the German television channel, ProSieben. A candidate who can beat Stefan Raab in a number of disciplines wins the jackpot.
Lady Gaga performed along side 3 male back-up dancers, while wearing vintage sunglasses, a large black hat, and a black and white outfit.
Set list
Ad blocker interference detected!
Wikia is a free-to-use site that makes money from advertising. We have a modified experience for viewers using ad blockers

Wikia is not accessible if you've made further modifications. Remove the custom ad blocker rule(s) and the page will load as expected.