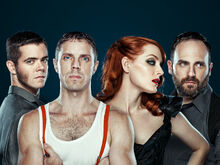 Scissor Sisters is an American pop and Nu-disco band formed in 2001. The members consist of vocalists Jake Shears and Ana Matronic, multi-instrumentalist Babydaddy, lead guitar/bassist, Del Marquis, and drummer Randy Real (who replaced former drummer Paddy Boom).
Work with Lady Gaga
References
Ad blocker interference detected!
Wikia is a free-to-use site that makes money from advertising. We have a modified experience for viewers using ad blockers

Wikia is not accessible if you've made further modifications. Remove the custom ad blocker rule(s) and the page will load as expected.