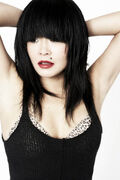 Sheryl Murakami has been dancing and performing since the age of 5. She is a Los Angeles native who has trained extensively in classical ballet while also studying tap, jazz and later branching out into hip hop and salsa. She lives in NYC and LA. Now is choreographer at Clear Talent Group.
She's one of the first of Lady Gaga's former back up dancers. She appeared in the music video for "Just Dance" as well as several early media appearances with Gaga. She is also a well respected choreographer who has worked with the likes of Avril Lavigne, Kat Graham and most notably Beyoncé.
Murakami started working with Beyoncé in 2009 and injected her choreography into several music videos such as "Ego", "Run the World (Girls)" (which she claimed an MTV Video Music Award for Best Choreography) and "Dance For You". Other projects that Murakami has worked on include the successful "I Am... Tour", "Revel Presents Beyoncé Live" and her all-female dance troupe T(H)RASH. Murakami's choreography, which is an infusion of burlesque, hip-hop and jazz, is described as a celebration of unapologetic, uncensored female sexuality and is applicable to different styles of music including jazz, pop and rock.
Work with Lady Gaga
Edit
"Just Dance" (2008)
Various performances (March-April, June 12, 13, 14, 2008)