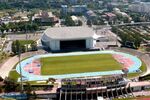 Stade Charles-Ehrmann is a football stadium, located in Nice, France. For sporting events, it seats 8,000 spectators. It is sometimes used by the OGC Nice, for practice or friendly matches, and by their reserves team the Eaglets. For large concerts, it is used in conjunction with the indoor concert hall Palais Nikaia, whose doors are opened and permit large crowds of up to 50,000 to view the stage inside the hall.
Part of The Born This Way Ball Tour.
Set list
TBA
Ad blocker interference detected!
Wikia is a free-to-use site that makes money from advertising. We have a modified experience for viewers using ad blockers

Wikia is not accessible if you've made further modifications. Remove the custom ad blocker rule(s) and the page will load as expected.