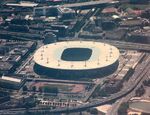 The Stade de France (French pronunciation: stad də fʁɑ̃s) is the national stadium of France, situated just north of Paris in the commune of Saint-Denis. It has an all-seater capacity of 80,000, making it the eighth largest stadium in Europe.
Part of The Born This Way Ball Tour.
Set list
TBA
Ad blocker interference detected!
Wikia is a free-to-use site that makes money from advertising. We have a modified experience for viewers using ad blockers

Wikia is not accessible if you've made further modifications. Remove the custom ad blocker rule(s) and the page will load as expected.