Starbucks is an American coffeehouse chain and coffee company based in Seattle, Washington, USA.
Born This Way partnership
Edit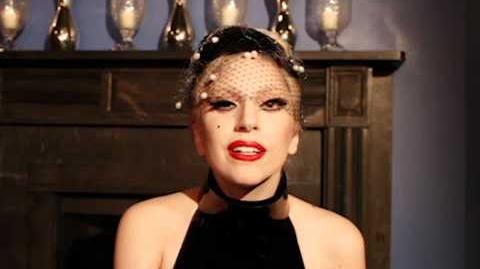 It was announced on May 18, 2011 that Lady Gaga would be teaming up with Starbucks in order to promote her new album, Born This Way. "SRCH" officially launched the next day, May 19th. Customers could activate the game by scanning the QR code posted in participating Starbucks stores.
A contest was held which allowed customers to search for Gaga-related clues as part of a scavenger hunt across Starbuck's digital properties from Facebook to Twitter to Foursquare. The top winner received special access to a Gaga concert during her 2012 world tour. The contest was held until June 3, 2011. On May 23rd, Starbucks customers in the United States were granted access to stream Born This Way, download "The Edge of Glory", and watch an exclusive video from the in-store Starbucks Digital Network. On the same day, Gaga's music was played in Starbucks stores across the U.S. for the first time in the coffee chain's history.
Merchandise
Edit
Cheek To Cheek albumEdit
Main article: Cheek To Cheek, Steven Klein
Ad blocker interference detected!
Wikia is a free-to-use site that makes money from advertising. We have a modified experience for viewers using ad blockers

Wikia is not accessible if you've made further modifications. Remove the custom ad blocker rule(s) and the page will load as expected.