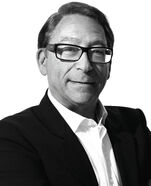 Stuart A. Weitzman (born in 1941) is an American footwear designer and entrepreneur. His shoes are sold in over 70 countries. In the late 1950s, Weitzman's father, Seymour Weitzman, started a shoe factory in Haverhill, Massachusetts, called "Seymour Shoes" (also sold under the label: "Mr. Seymour"). Stuart began designing shoes for his father's business in the early 1960s, when he was in his 20s. Weitzman graduated from George W. Hewlett High School in 1958 and the Wharton School at the University of Pennsylvania in 1963. When Seymour died in 1965, Stuart took over the business with his older brother Warren. They sold the business to a company in Spain in 1972, but Stuart continued to design shoes for the company. In 1994, he bought back the business, but he continues to manufacture his shoe designs in Spain.
Ad blocker interference detected!
Wikia is a free-to-use site that makes money from advertising. We have a modified experience for viewers using ad blockers

Wikia is not accessible if you've made further modifications. Remove the custom ad blocker rule(s) and the page will load as expected.