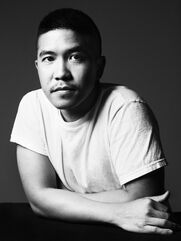 Thakoon Panichgul (/təˈkuːn pəˈnɪtʃɡəl/; Thai: ฐากูร พานิชกุล, born in 1974 in Nakhon Phanom Province, Thailand) is a Thai-American fashion designer. Panichgul moved to the United States with his family when he was 11 years old, and grew up in Omaha, Nebraska.
Panichgul produced his first ready to wear collection and became recognized by fashion press, editors and stylists, and celebrities like Rachel Bilson, Demi Moore, Michelle Obama, and Sarah Jessica Parker. In 2007 he produced a fashion line for The Gap after being singled out by Anna Wintour of Vogue Magazine, as chronicled in the 2009 American documentary film, The September Issue. He produced a well-received limited-edition clothing line at Target in early 2009.
Spring 2015 Collection
Edit
Ad blocker interference detected!
Wikia is a free-to-use site that makes money from advertising. We have a modified experience for viewers using ad blockers

Wikia is not accessible if you've made further modifications. Remove the custom ad blocker rule(s) and the page will load as expected.