While releasing her third studio album ARTPOP, Gaga held a private event in New York known as artRave, where she performed songs from the album and showcased art pieces. Later she took the concept of artRave and created artRAVE: The ARTPOP Ball tour.
Stage
On December 4, 2013, Gaga posted on Twitter that the stage design for the tour would be done by the same architect as the Monster Ball. She also revealed the first hint related to the story of the tour: "This time we are on the planet... #VENUS." In an interview with Capital FM, Gaga discussed about the stage set up for the tour. Gaga wanted something other than the "Monster Pit" arrangement she previously had in the Born This Way Ball tour, since she was always limited to performing on one portion of the arena. Hence Gaga and her team thought of building two stages, one main stage and an accompanying one on the far end of the arena. It would be enhanced by the addition of a catwalk which would wind all around the arena floor, enabling the singer to interact with the audience.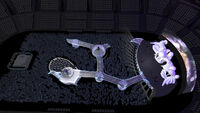 On March 17, 2013, Gaga posted a render of the stage, giving some details about the construction: "The stage is lucite and you can just dance underneath the runways".
ARTPOP Zone
The ARTPOP Zone is a section of the artRAVE:the ARTPOP ball stage. This special section is located in front of Gaga's piano on the b-stage. The section features seats and a mini bar promoted by Absolut Vodka for North American and United Kingdom shows.
Backdrop concepts
Stage concepts
Stage Set up