The Monster Ball Tour
Talk

2
3,679pages on
this wiki
The Monster Ball is the second concert tour by Lady Gaga to promote The Fame Monster, her sophomore album. The tour was officially announced on October 15, 2009, after her joint concert tour with rapper Kanye West, titled "Fame Kills", was suddenly canceled. Described by Gaga as "the first-ever 'pop electro opera'", The Monster Ball Tour began four days after the release of The Fame Monster.
Background
Initially, hip-hop artist Kanye West and Lady Gaga had plans to launch a joint tour together. Fame Kills: Starring Lady Gaga and Kanye West was confirmed in September, 2009, as a concert tour that West and Gaga would co-headline. In the aftermath of the 2009 MTV Video Music Awards, West made a public statement that he would take a break from the music industry following the media and public reaction to his outburst during Taylor Swift's acceptance speech for winning the moonman for "Best Female Video". Nevertheless, the complete schedule for the tour was released, with the tour set to begin on November 10, 2009, in Phoenix, Arizona. Shortly afterwards, the tour was officially canceled without any explanation. Gaga addressed the situation at Billboard's annual Women in Music luncheon where she cited creative differences as the reason for the tour's cancelation. In an interview she stated, "[Kanye] is going to take a break, but the good news is, I am not."

After ensuring the public that she would be embarking on a solo tour in lieu of the defunct tour, Gaga officially announced The Monster Ball Tour on October 15, 2009. The tour had originally been planned to debut in London in early 2010, but was rescheduled, and launched on November 27, 2009, in Montreal, QC. Rapper, Kid Cudi, and singer, Jason Derülo, were confirmed as the supporting act for the tour. While Cudi was confirmed to be supporting Gaga from the beginning of the tour, it was reported that Derülo would join the tour beginning on December 16, 2009. Cudi was kicked off of the tour after the December 14th show due to inappropriate behavior towards a fan. The official poster for the tour features Gaga in her signature Versace 676 sunglasses and what she has dubbed "The Orbit", which she first wore on the October 3, 2009 edition of Saturday Night Live. The contraption was designed by Nasir Mazhar in collaboration with Gaga's own creative production company, Haus of Gaga.
Monster Ball 1.0 — Theater Version
Main article: Monster Ball: Theater Version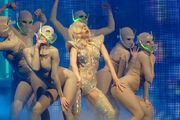 The stage of the original show looked like a frame, comparable to that of a hollowed-out television set. Since
The Fame Monster
dealt with the paranoias Gaga had faced, the main theme of the original shows became human evolution, while elements of the canceled tour with Kanye West still included in some parts.
Monster Ball 2.0 — Arena Version
Main article: Monster Ball: Arena Version
A revision of the tour occurred after only a few months of performances, due to Gaga's concern that the original version was constructed within a very short span of time. From 2010 to 2011, the revamped shows had a New York theme and portrayed a story set in the city, where Gaga and her friends got lost and had to find their way to "the Monster Ball".
Broadcast and recordings
Fans who met Gaga after various shows confirmed that she will be releasing a 3D movie of the tour. This is one of the reasons behind the 3-D glasses included in the Super Deluxe version of The Fame Monster. On March 4, 2010, GagaDaily announced via Twitter: "The Monster Ball DVD is going to be released and it will be in 3D!" On March 8, 2010, a rep from Interscope Records released the following statement to MTV News: "there are talks about a 3D concert and DVD in the near future." On Febuary 14, 2011, while on The Tonight Show with Jay Leno, Gaga announced that there will be an HBO special of the concert. The program was filmed during Gaga's February 21-22 shows at Madison Square Garden and will be titled "Lady Gaga Presents the Monster Ball Tour at Madison Square Garden." HBO confirmed that the special will air on May 7, 2011 and will be directed by Laurieann Gibson.[1]
Lady Gaga X Terry Richardson
Main article: Lady Gaga X Terry Richardson
Gaga teamed up with Terry Richardson after the photoshoot for Vogue magazine. Richardson wanted to photograph Gaga during her offstage presence, document what she did when she wasn't performing.
"

[Terry] wanted to do a book about the 'Monster Ball.'He wanted to shoot me backstage, not onstage, and look at who I am offstage. He's on the bus with me. He just follows me everywhere. He'll photograph me when I'm changing - those quick changes during the show.

And sometimes I'll have to pee during the show, and I'm always screaming, 'Terry, get out!' And he'll be saying, 'It's so beautiful. You're so punk!' If only my fans knew I was peeing in a beer cup backstage.

"

—Lady Gaga
Outtakes
SHOWstudio released on October 7 and 18, 2011 backdrops cut from the show for undisclosed reasons. These backdrops were probably intended for the Arena Version as these particular songs did not have any.
| | |
| --- | --- |
| So Happy I Could Die | Poker Face |
SHOWstudio on December 25, 2012, the Bloody Space Film was released as a Christmas gift to the site's readers.



Added by

Gala.kapanadze




Added by

Gala.kapanadze
Media
Android Inc. created five phone commercials released in Japan in late November of 2010, sampling the Jumping Film video merged with images of the phone.
A screenshot of the Little Monsters Film was featured in Vogue Hommes Japan Vol. 5 in 2010.
Fan Film
In a unique step, Lady Gaga, image-maker, Nick Knight, and fashion-filmmaker, Ruth Hogben launched a one-off collaborative project, inviting Gaga's fans to submit their own video imagery for inclusion in the interlude. The inspiration is sharp, simple, and brutal: the Apocalypse, symbolic of both destruction and rebirth. Gaga, Knight, and Hobgen selected imagery from the submissions, and the videos were then spliced together and reinvented as exclusive imagery, played alongside Gaga's live performances.
During the first version of the tour, the video was shown during her performance on the piano. The last version is shown at the very end of the show.
Virgin Mobile
Main article: RE*Generation
Virgin Mobile was a sponsor of The Monster Ball.
Call Gag
The Virgin Call Gag is a part of The Monster Ball (North American dates only) where Lady Gaga call one of her fans from the audience. Fans have to fill the form available on the Lady Virgin website and the winner will be selected during the show. The prize for those who got called was a seating shift to the mosh pit.
2010 Haiti earthquake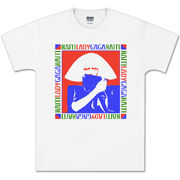 Although declining an invitation to record a benefit song. Gaga held a concert of The Monster Ball Tour following the 2010 Haiti earthquake and dedicated it to the country's reconstruction relief fund. This concert, held at the
Radio City Music Hall
, New York, on January 24, 2010, donated any received revenue to the relief fund while, in addition, all profits from sales of products on
Gaga's official online store
on that same day were donated. Gaga announced that an estimated total of $500,000 was collected for the fund.
Personnel
Promoter – Live Nation Global Touring (Worldwide), AEG Live (UK)
Tour Sponsor – Virgin Mobile (US), MAC Cosmetics (Worldwide)
Creative Director – Matthew "Dada" Williams, Willo Perron, Laurieann Gibson
Choreographer– Laurieann Gibson, Richard Jackson
Fashion director – Nicola Formichetti
Stylist Assistant – Anna Trevelyon
Finances – TMI Productions
Legal – Ziffren Brittenham LLP
Lighting Company – Production Resource Group (PRG) - LV
Live Video – Nocturne Video
Management – Troy Carter
Management assistants – Allison Streuter, Amanda Velez
Day-to-day manger – Wendi Morris
Tour manager – Florence Tse
Hair stylist for Lady Gaga - Frederic Aspiras
Make up artist for Lady Gaga – Tara Savelo
Main Make Up Artist for Dancers – Sarah Nicole Tanno, Marissa Jade Willinsky
Personal assistant – Jennifer O'Neill
Assistant – Sonja Durham
Dance Captain – Vincent Asiel Hardison
Dancers – Michael Silas, Ian McKenzie, Graham Breitenstein, Montana Efaw, Sloan Taylor-Rabinor, Amanda Balen, Molly d'Amour, Mark Kanemura (2009-2010, 2011), Jeremy Hudson (2009-2010), Cassidy Noblett (2010), Victor Rojas (2010-2011)
Videos: interludes and backdrops
For the fashion credits, see each video on the synopsis of Theater or Arena version.
Concept and direction — Nick Knight and Ruth Hogben (SHOWstudio)
Creative direction — Matthew Williams (Haus) and the Haus of Gaga
Styling — Nicola Formichetti (Haus) and the Haus of Gaga
Hair stylist — Sam McKnight
Makeup artist — Val Garland
Manicurist — Marian Newman
Production — Sarah Podesta (Gainsbury & Whiting)
Director of photography — Daniel Landin
Camera — Sony PDW-700 HD
2nd Camera Assistant (AC) — Louise Murphy
Grip — Godfrey stuart
Animation — Sam Pattinson and Luke Halls (Onedotzero Industries)
3D animation — Kevin Stenning (Rapido3D) and BURSTvisual
Video editing — Ruth Hogben (SHOWstudio)
Video programmer — Matt Shimamoto for PRG
Video screens producer — Sam Pattinson (The Third Company)
Theater Version
Musical Director – Jeff Bhasker
Set Design – Es Devlin
Set building – Tait Towers
Lighting Design – Willie Williams
Lighting Director – Ethan Weber
The Orbit by Nasir Mazhar and Haus of GaGa
Band
Guitar – Adam Smirnoff
Drums – Charles Haynes
Keyboards – Pete Kuzma
Keytar – Lady Gaga ("Just Dance")
Keyboards/Bass – Mitch Cohn (after the concert in Boston in December, 2009)
Arena Version
Musical Director – Joe "Flip" Wilson
Show Director – Arthur Fogel
Lighting/Set/Scenic Designer – Leroy Bennett
Set building – Tait Towers
Set Sculptures – Nick Knight and Kevin Stenning (Rapido3D), BURSTvisual
Band
References